F5 Tornado
Contributor Affiliations:
The things that grow on gloves.
Bioseparations ended in a whirlwind of information and lab work! So much so, that I felt like I was watching a Shrek movie (in a tornado). You know, with all the Disney characters in the same place all mixed together. By our final, which was a mock interview for a bioseparations lab tech position, I was sorted out on what the different types of chromatography use to equilibrate and elute proteins. Although, I did get busted still trying to intermingle PAGE and gel columns. Whoops!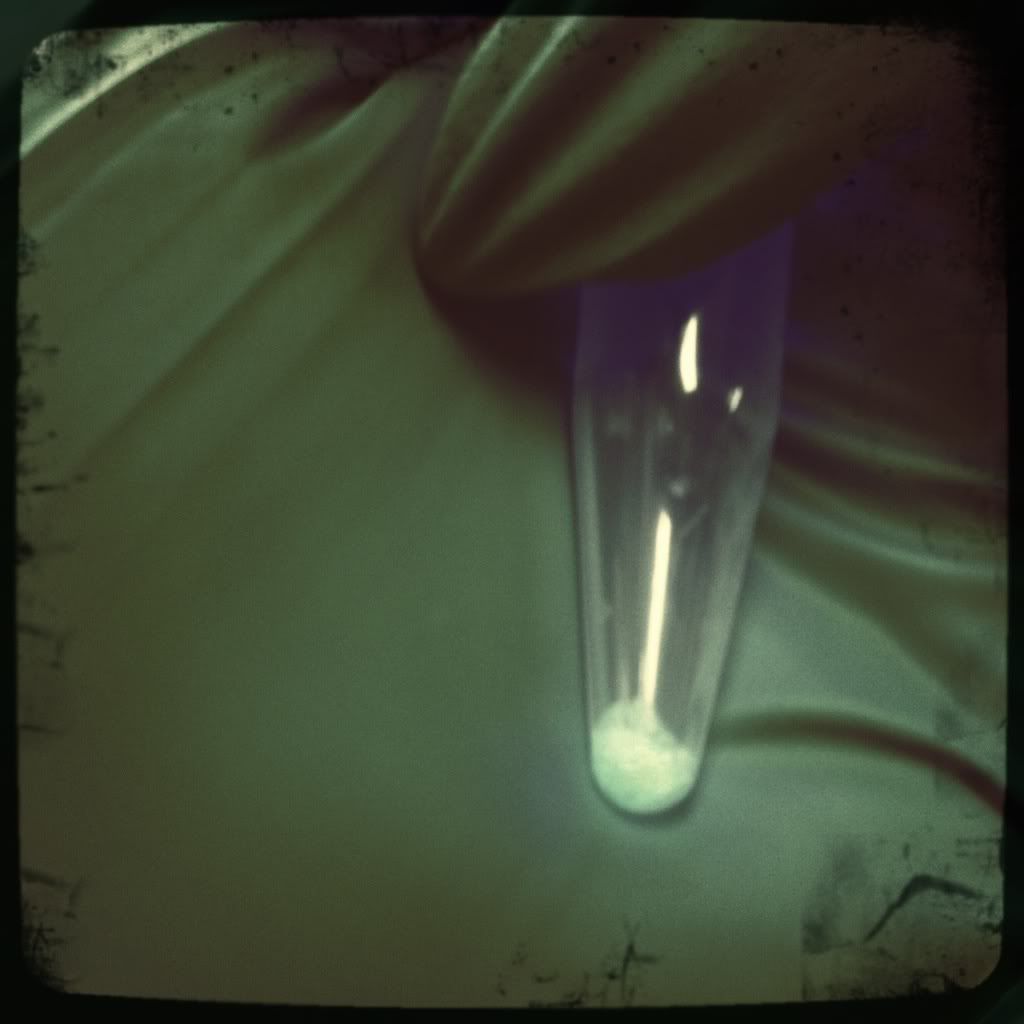 Our last two projects in bioseparation were using HIC (Hydrophobic Interaction Chromatography) to purify green fluorescent protein which was propagated using bacteria. Here's a pic of the original sample we received on the right. That was such a great lab to see the protein actually moving through the column.
After that we used an affinity column to purify beta-galactosidase (a term I can write and type with ease, however pronouncing it in a mock interview seems nearly impossible). There were Bradford assays flying this way and that and beta-galactosidase assays too. Truthfully, there was so much going on in such a short time it felt a little like running for shelter in a tornado emergency. And that(!), my friends, is why I've been M.I.A. the last few weeks!
In Quality Systems practice we had guest speakers who discussed quality monitoring of the production environment and gowning. We even got to practice donning the many layers of PPE in class, which was cool, but really, the best part was using the plates! My classmate, Beau, who wants us to live long and prosper (see pic), testing a KimWipe and in 48 hours had... what can only be described as a white mold chia pet. It was so gross! Which also made it super awesome to me.
I did a glove test that had results that surprised me. Not only did I get a couple of CFUs but the morphology on one of them was really different from anything I ever saw in microbiology. It was smooth irregular with an undulate margin. It looked like the opaque love child of the Swamp Thing and the Blob. Seriously freaky.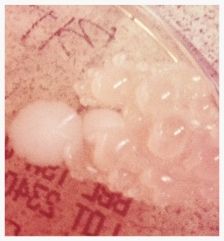 Our Protein Purification class (the other half of our term from Bioseparations) began this week. My lab partner and I have been making liters and liters of the solutions we will need for the class. We received our bacteria sample and got to use the Sonicator to break open the cells. Then we used our friend, the high speed centrifuge to separate the cell debris from the supernatant. We also did our serial dilutions to start our Bradford and beta-gal assays which we plan to do Monday.
Our homework for Protein Purification is centered around using this tool (www.agbooth.com/pp_ajax) to create some purification schemes based on the known characteristics of an unknown protein. The known characteristics aren't much. You're given the protein's tolerance ranges for temperature and pH. Ideally, you want to separate down until you have only one band on your PAGE. Protein 7 vexes me. The best I did was 3 bands, with really high enrichment and a lower yield. I didn't get fired though! The simulation will actually fire you if you lose your sample or don't produce enough product. I spent hours playing with it yesterday; you've been warned. And by playing with it, I mean utilizing this excellent learning tool.
As if all of that wasn't enough, we also toured Hemcon on Thursday! It was interesting to see how their product is made from start to finish and be able to incorporate what we have learned about GMP into what we were actually getting to see going on there. I can now say I've seen a lyophilizer, from the front accessible only through the clean room, and the back where their engineering room housed miles and miles of pipes and complicated/expensive looking equipment. Hemcon makes a bandage product that helps blood clot faster and is widely used in the military. They also give a great tour!