This Isn't Kansas, Toto.
Contributor Affiliations:
The class goes on a tour and learns about primates.
Our Exploring Biotechnology class toured the Oregon National Primate Research Center (ONPRC). Education Outreach Specialist, Diana Gordon spoke with us about the work going on at the center and gave us a tour of the facilities. ONPRC was the first National Primate Research Center and dates back to 1960. Support through grant funding from the National Institute of Health and the National Center for Research Resources is supplemented by private funds from institutions like the Bill and Melinda Gates Foundation.
Using these resources, the ONPRC divides its research conducted in three research divisions. These are Neuroscience, Pathobiology & Immunology, and Reproductive Sciences. In each of these divisions research projects are attempting to gain a better understanding or solve many of today's biological concerns. Additionally, ONPRC has interdisciplinary Working Groups tasked with things like researching the biology of aging; an especially important concern as the majority of our country's population ages.
The tour was awesome.
We walked through the indoor/outdoor sheltered housing units which housed the breeding population of macaques. They were inhabited by groups of rhesus monkeys enjoying a mild sunny day and indulging in jello treats. The jello is provided by filling diamond shaped containers that were maybe two square feet, and inside of them were little holes filled with orange jello. That way the monkeys were able to forage for their Jello. Each unit had plenty of climbing and other moving apparatus which these little gymnasts were happily flying around on. Past the house were a couple of huge outdoor corrals that holds the Japanese snow monkeys. Before getting anywhere near the buildings though we were warned to stay within the yellow paint walking areas that kept us about 20-30 feet away from the structures and not to make eye contact if possible.
Observing the dynamics between the groups and within the groups was captivating. They were so busy! They reminded me of the monkeys in the Wizard of Oz, but not as menacing. There was so much to watch that I didn't want to leave! According to their website, there are twelve veterinarians and over 100 support staff dedicated to actually knowing, caring for, and preserving the all around well being the approximately 4200 NHPs (nonhuman primates). There were lots of babies! I found it interesting that the mothers give birth in the shelter without involvement from the vet staff unless intervention is necessary for the safety of the animals. Which makes perfect sense, since it would be fairly traumatic for an animal to be in labor and then also be removed from the place they're comfortable and their family to complete the birth.
The whole trip was fascinating. If you happen to be near one of the eight National Primate Centers I highly recommend taking a tour. Sorry, I wasn't allowed to take pictures, but I'm attaching a pic from their website that shows the observation area that we used to observe the Japanese snow monkeys. Did I mention I didn't want to leave? I really didn't want to leave.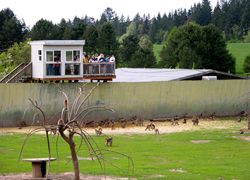 Bonus round!!! There is a former student of the program that works at the ONPRC who took some time out of her day to tell us how she ended up where she is and show us around her lab!
We spent last week using an affinity chromatography column to purify beta-galactosidase which involved more Bradford assays and beta-galactosidase assays. We also had our Bioseparations final (which was a mock interview) and said goodbye to our departing instructor. I have tons more to share in the coming days!